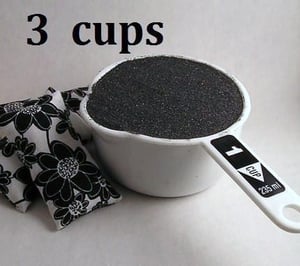 $

28.80 - On Sale
Three Cups Loose Emery to fill pincushions.

Are you familiar with the little strawberry that comes along with the famous tomato pincushion? Do you know the purpose of that strawberry? Well, for many years, I didn't. It's an emery pincushion. Its purpose is to keep your pins and needles sharp. It's filled with a mineral called "emery". Emery resembles fine metal shavings. It's used as an abrasive in industrial applications and on household items like emery boards.
I searched high and low for a larger emery pincushion with no luck, so I decided to start making my own. I found an industrial supply company that would sell emery to me. I've been making Emery Pincushions ever since.
The emery I purchase is perfect for pincushions. Emery is available ground very fine to very coarse. This is the correct grade for pincushions.
I'm now offering the emery for sale so that you can make your own Emery Pincushions for yourself, to give as gifts, or to sell.
This listing is for 3 cups of emery. The pincushions pictured are not included in this listing.
The pincushions pictured measure approximately 2 3/4 inches (7 cm) by 1 1/2 inches (3.8 cm). I use approximately 1/8 cup emery in each of these pincushions, so you could make about 8 similar sized pincushions with each cup of emery. Of course you can make fewer, larger pincushions with this amount also.
If you'd like a different quantity of emery, please check my shop. I have listings for ½ cup, 1 cup, 2 cups, and 3 cups. Orders of 2 cups or more are marked at a 20% discount. Still not exactly the amount you'd like? Just contact me and I'll put up a custom listing for you. Be sure to provide your zip code or country so I can give you a quote on shipping.
The 20% discount for 3 cups is already reflected in this listing price.
I suggest covering your pincushions twice with fabric. This will ensure that the emery doesn't escape through seems or pinholes. I first make a muslin sack, fill that with emery, then cover it with a decorative fabric.
Emery pincushions really are the perfect pincushions...They're heavy so they won't slide around your work surface, they hold your pins and needles, pins are sharpened with every jab, and they can be quite cute. What more could you want from a pincushion?
Again, the finished pincushions pictured are NOT included in this listing.
If you'd rather buy a pincushion, instead of making your own, please visit my shop to purchase my finished Emery Pincushions.
Thanks for looking!
var sc_project=4020601;
var sc_invisible=1;
var sc_partition=31;
var sc_click_stat=1;
var sc_security="1e526a98";